Mount Bromo, East Java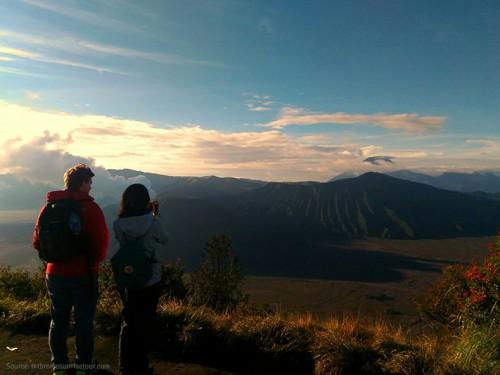 A lunarlike landscape of epic proportions and surreal beauty, the volcanic Bromo region is one of Indonesia's most breathtaking sights.
Rising from the guts of the ancient Tengger caldera, Gunung Bromo (2392m) is one of three volcanoes to have emerged from a vast crater, stretching 10km across. Flanked by the peaks of Kursi (2581m) and Batok (2440m), the smouldering cone of Bromo stands in a sea of ashen, volcanic sand, surrounded by the towering cliffs of the crater's edge. Just to the south, Gunung Semeru (3676m), Java's highest peak and one of its most active volcanoes, throws its shadow – and occasionally its ash – over the whole scene.
The vast majority of independent travellers get to Bromo via the town of Probolinggo and stay in Cemoro Lawang, where facilities are good. There are other options in villages on the road up from Probolinggo. Additional approaches via Wonokitri and Ngadas are possible.
Mandalika, West Nusa Tenggara


Mandalika, once a surfers' best kept secret, now it has emerged as the island's capital of leisure. Mandalika shouts heaven from all of its enchanting corners.
The special tourism economic zone boasts vibrant bars and nightclubs, thrilling racing circuits, exciting water parks, luxurious hotels and resorts, fascinating golf courses, rejuvenating spas, and plenty more; there's everything for everyone at this 1,250 hectare paradise. The tourism industry in Mandalika is equalling its neighboring island, Bali. Mandalika is also a melting pot of tourists from all parts of the globe. Here, the tourism industry fused seamlessly with the unique and colorful culture of the local people that is still well preserved for generations.
Mandalika is also conveniently located near some of Lombok's most outstanding beaches. These include Tanjung Aan, Kuta, Gerupuk, Serenting, and Seger Beach. From the top of the Merese Hill and Batu Payung Beach, you are presented with some of the most amazing panorama of Lombok. All kinds of fun water sports activities awaits at Kuta Beach. Those who enjoy swimming, surfing, and fishing can head to Gerupuk Beach, while those who prefer peace and serenity can head to Serenting Beach. For a one of a kind cultural experience, head down to Seger Beach during the annual tradition of Bau Nyale Ritual and join in the local festivity you won't find elsewhere.
Blessed with a beautiful nature and enhanced by the hands of professionals, Mandalika is designed to make your dream vacation a reality. With all its exceptional splendors, a trip here will be unforgettable and will make you long for more.
Getting around in this area is quite simple. A public transportation vehicle called Bemo runs all over Lombok including Mandalika, and it will get you to most places. You can also rent a car, a motorcycle, or a bicycle. However, since most of the facilities in the area are within walking distance, you can simply walk or stroll as you enjoy the vibe.
How to get there? From Singapore and Malaysia, you can take a direct flight to Lombok International Airport, which is located not too far from Mandalika. Flights are also available from various major cities in Indonesia such as Jakarta, Surabaya, and Bali. From Jakarta, the flight will take about 2 hours, while from the nearby Bali, it will only take about 30 minutes. From Bali, you can also take a ferry from Padang Bai Harbor to Lembar Harbor in Lombok. From there you can take a bus or a taxi to Mandalika that will take about 2-3 hours.
Labuan Bajo, East Nusa Tenggara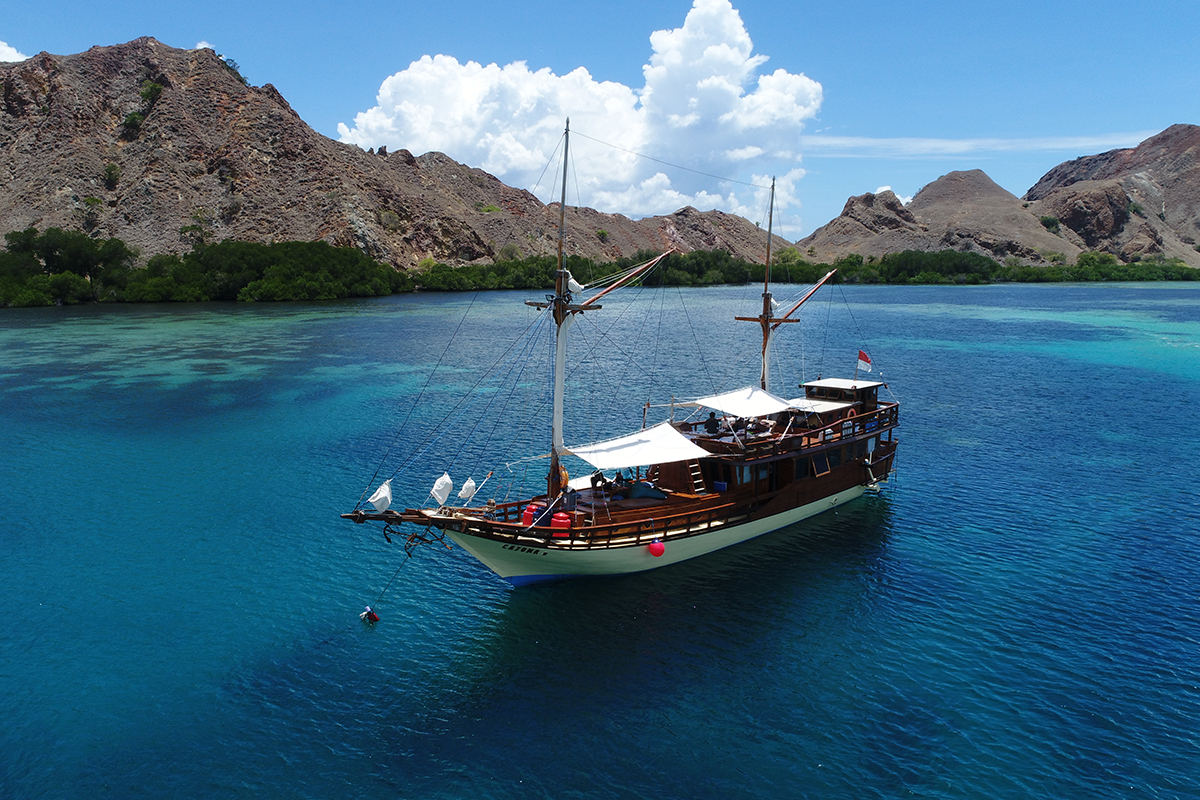 On the westernmost tip of the Island of Flores, the town of Labuan Bajo, or also spelled Labuhan Bajo, sits peacefully with many wonders waiting for you to explore. Labuan Bajo was only a small fishing site that today has flourished to become the gateway to many exotic destinations in East Nusa Tenggara.
The extraordinary interest of travelers to the existence of the Komodo dragons who are locally called ora is a valuable alluring factor that amplified by its superb national park.
The Komodo National Park was listed as UNESCO's World Heritage Site in 1991. It is home to fascinating wildlife, both on land and underwater. The park consists of Komodo Island, Rinca Island, Padar Island and numerous smaller islands around them. Labuan Bajo is known as the city of sunset. You can find plenty of vantage point to enjoy every end of the day with a spectacular sky.
There are some interesting destinations that you can discover inside the city. The Mirror Cave is located only 4 kilometers away from Labuan Bajo. This cave was founded by Dutch archaeologist in 1951, who concludes that Labuan Bajo was once located under water.
The local name for the cave is Goa Batu Cermin. In some parts, you can see some stones with reflective character, thus become the name of this natural wonders.
Another stunning wonder you might also want to check out is Rangko cave. Have you ever swim in a cave-lake before? Here's your chance!
You can also explore the paths to Cunca Rami and Cunca Wulang canyon waterfall! Bukit Cinta, Puncak Amelia, and Puncak Silvia are all vantage points, not far away from Komodo Airport in Labuan Bajo. You can enjoy some spectacular view of the island and the open sea at sunset.
For the culinary feast, you can head right to Kampung Ujung and experience the delicious local food center for dinner time in Labuan Bajo.
Labuan Bajo becomes more romantic with the growth of that ideal holiday spot. Wooden cottages with thatched roofs camouflaged by shrubberies and towering trees up in the sloping township, overlooking an idyllic harbor, is the perfect elements of an unforgettable experience.
For some adventurers, Labuan Bajo can be that ideal getaway. With choices of land and sea to conquer, it is no wonder that Labuan Bajo is seeing more and more visitors coming every year. Try the liveaboard experience, where you get to live on board for several days, to visit gorgeous islands and dive into the stunning wonders of the ocean.
Wakatobi, South Sulawesi

WA stands for Wangi-wangi; KA is for Kaledupa; TO for Tomia; and BI for Binongko, and what do you get when you put all names of the islands together? The ultimate tropical paradise that lies at the heart of the world's precious Coral Triangle, this is WAKATOBI!
Now a National Marine Park covering the entire Wakatobi District, it comprises a total of 1.4 million hectares, of which 900,000 hectares are decorated with different, colourful species of tropical coral reefs. For Wakatobi is widely recognized as having the highest number of reef and fish species in the world. The islands are also famous as the largest barrier reef in Indonesia, second only to the Great Barrier Reef in Australia.
Here can be found fringing, atolls and barrier reefs and offer more than 50 spectacular dive sites easily accessible from the major islands. This is the habitat of large and small fish species, the playground of dolphins, turtles and even whales. Wakatobi alone is said to have 942 fish species and 750 coral reef species from a total of 850 of world's collection, which, comparing with the two world's famous diving centers, the Caribbean Sea owns only 50 species with 300 coral reef species in the Red Sea, in Egypt.
There are 4 islands in Wakatobi, which consists of Wangi-Wangi, Kaledupa, Tomia and Binongko.
Wangi-Wangi is the perfect place to start your Wakatobi adventure. Whether you are a skilled diver, occasional snorkeler, or just a laid-back traveler, the adventure of Wakatobi begins here. Commercial flights fly to and from Matahora Airport on this island make it the perfect gateway to explore all the wonders of Wakatobi. Watching the sun rise majestically over the horizon while dolphins swim and jump around your boat could not be a better start to your adventure.
Kaledupa is perfect for your timeless serenity. Surrounded by mangrove forests and coconut trees, the island of Kaledupa boasts a quiet and calmer atmosphere compared to the other islands. The total tranquility is especially felt at the nearby Hoga Island which is the center for scientific and research undertaken by Operation Wallacea. Boasting crystal clear water, pristine soft white sandy beaches, swaying palm trees, and nothing but the sound of waves rushing to the shore, this is best as it gets in terms of a perfect getaway. There are two resorts on this small island: Hoga Dive Resort and Hoga Island Dive Resort. Electricity is available only from 6.00 pm to 12.00 pm, but then again, it's a small price to pay for such an exquisite natural luxury. Hoga Channel and 'The ridge' near Hog are also among some of the best diving spots in Wakatobi.
Next, Tomia. The Third Island of Wakatobi, Tomia has been a famous dive site for more than 10 years. With over 40 dive sites that have been named and mapped with easy access to most of them, the island of Tomia has already established its name among divers worldwide. Among the many, Roma's Reef is a must among veteran divers as a challenging yet beautiful site. Almost resembling a big city, Roma's reef is very busy with vibrant underwater life. Here, you can find schools of Giant Trevalleys, sea snakes coming up from the sea floor, turtles gliding by majestically, as well as various colorful fish dancing among the soft corals. The privately funded Marine Preserve in Tomia, the Wakatobi Dive Resort offers exclusive packages including direct flights from Bali to the resort's private airstrip.
Beyond its waters, Tomia also offers a great overland adventure. The warm greetings of the local people will welcome you at the Patua Fort. The fort is considered the largest among similar fortresses found throughout the islands that once served not only to provide protection against invaders but also as the center of the settlement. What made this unique, is that the fort here (as well as other forts throughout the islands) are not built in European style with high cemented walls, but instead, the structures are made from piles of coral rocks that are distinct to the region. Aside from the fort, the local villagers also have a very unique attraction of climbing up the stairs on traditional bamboo stilts.
And the last one, Binongko is the land of blacksmiths. Binongko, the Bi or the last syllable of Wakatobi , and the furthest island of the group, offers its own special experiences. Again you will be greeted with the warm hospitality and friendliness of the local people. A lovely traditional welcoming dance is performed by a group of young girls accompanied by the traditional gambus music when a group of tourists visit the island. Binongko is actually the reason why the islands were once known as 'Tukang Besi'. Simply translated, TukangBesi means iron workers or blacksmiths. And Binongko is the island where you can find these really skilled blacksmiths. Here you can observe how steel is forged, shaped, and sharpened using traditional techniques that have been passed on down generations. Many even consider that knives and parang (machetes) produced on Binongko are the best in Indonesia. Off its shores, Binongko also offers excellent snorkeling and diving experiences with plenty of magnificent underwater splendors to enjoy.
You can get to Wakatobi by plane to Bau-Bau. Airlines flying to Bau-Bau from Jakarta, Bali or Surabaya are Garuda Indonesia, Lion Air and Sriwijaya Airline. From here you must take a boat to Wakatobi. The Wakatobi Dive Resort operates Charter flights so they can pick up passengers from Bali arriving direct on the island of Tomia.
Morotai Island, North Maluku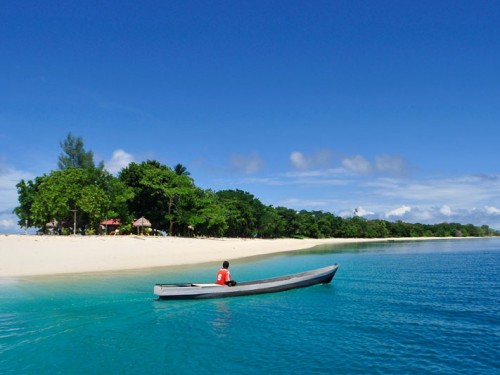 Locals who still remember World War II would tell visitors that back in 1944-145 Morotai was a hive of military activities with tens of sorties roaring daily from aircrafts taking off and landing at airstrips along Daruba Bay,endless stamping of thousands of military boots marching across the island, and navy ships anchoring daily carrying supplies and reinforcement. For Morotai back then, was the strategic base of the Allied Forces from which they attacked posts in the Philippines and Borneo in their fight against Japanese forces during World War II.
Now the government plans to make Morotai into an economic hub and gateway into Indonesia from the Pacific Ocean. Morotai will be developed as a fishery, tourist, trade and services center.
The island of Morotai has now been designated as one of Indonesia's Top Priority Tourist Destination for intense resort development.
Located north of the larger island of Halmahera in the province of North Maluku, the island of Morotai has a number of great beaches and interesting diving spots. The largest town here is Daruba in the south. To Morotai's north are the Philippines, to its east the Pacific Ocean. Not much remains to be seen from those hectic World War II days, except for a number of interesting wrecks to be explored underwater.
A lone statue of General Douglas MacArthur on the island of SumSum near Daruba serves to remind following generations that this famous general, best known for his words "I will return", once made Morotai his military base. Nearby at Kao Bay in Halmahera a half submerged Japanese wreck named the Tosimaru can still be seen from shore.
A shack filled with memorabilia of World War II collected by a private citizen and known as the Morotai Museum can be visited to remind visitors of those terrible war days, which will hopefully never occur again on this planet. Besides serving as US and Australian military base in WW II, the island of Morotai later also served as base for Indonesian forces in the liberation of West New Guinea from Dutch colonization.
The best way to get to Morotai is on your own yacht or liveaboard, which will ensure your easy access and accommodation.
The nearest airport to Morotai is on the island of Ternate. Garuda Indonesia, Lion Air, and Sriwijaya Air serve regular flights to Ternate. From here you must travel overland to Tobelo, in North Halmahera, then take a ferry to Daruba on Morotai. The sea journey takes around two hours.